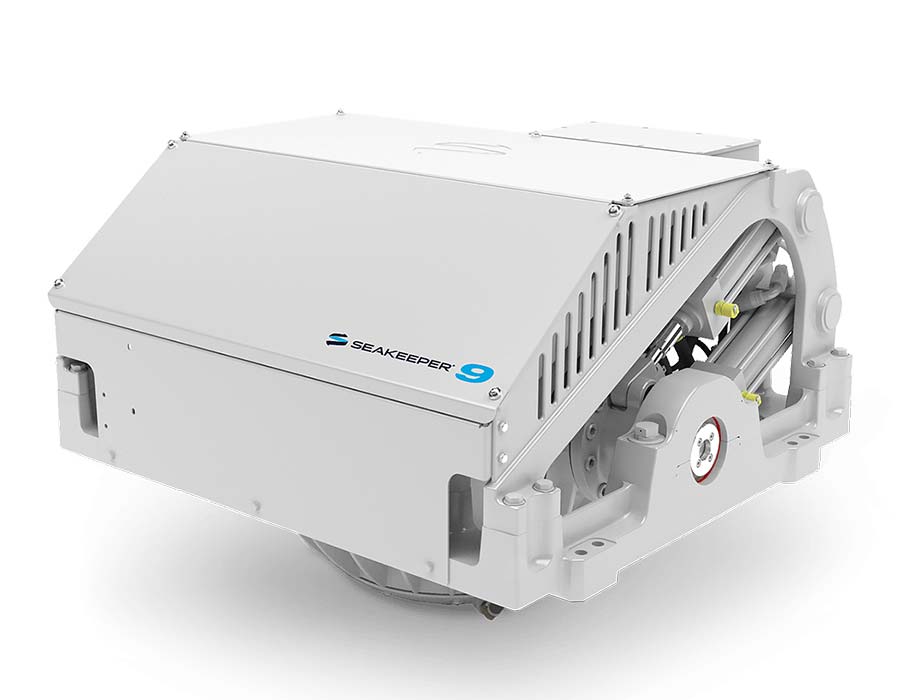 An evolution of our original M7000, the Seakeeper 9 is the product that changed the boating experience  forever! Specially designed to stabilize boats ~50' – 59', or up to ~30 tons.
Max Rated Speed
9,000 RPM
Angular Momentum at Max Rated RPM
9,000 N-M-S
Anti-Rolling Torque at Max Rated RPM
18,810 N-M
Spool-up Time to Max Rated RPM
55 minutes (9,000 RPM)
Spool-up Time to Stabilization
38 minutes (7,650 RPM)
Power Consumption
Spool-Up Power
3000 Watts Max
Operating Power
1000 – 2000 Watts (Sea State Dependent)
AC Power Input
220 VAC, 50/60 Hz
Control Power
240 Watts
Control Power Input
24 VDC @ 10 Amps
Seawater Pump Power Input
Over Current Protection based on installed pump rating
24 VDC @ 10 Amps Max
Weight
1,210 lbs (550 kg)
Envelope Dimensions
33.5 L x 35.6 W x 27.9 H (inches)
0.852 L x 0.903 W x 0.708 H (meters)
Noise Output
68-70 dBC at 1 meter
Sea Water Supply to Heat Exchanger
30 LPM (8 GPM) maximum
15 LPM (4 GPM) minimum
Ambient Air Temperature
0°-60° C (32° – 140° F)
Frequently asked questions
What is a Seakeeper and what does it do?
It is a computer controlled gyroscope that eliminates most boat roll, including the fatigue, anxiety and seasickness that goes with it. Because of this game changing effect, PR Nautica have successfuly installed over 30 Seakeeper units worldwide.
How much does the Seakeeper weight, and what are the power and space requirements?
Typically, the Seakeeper weighs between 2 and 4% of boat weight, requires half or less the power of air conditioning, and fits in available space down in the after part of the hull. Nothing extends outside the hull and the Seakeeper is a small percentage of the overall volume of the boat.
Is there a Seakeeper suitable for my boat?
Seakeepers are sutiable for most boats 30 feet and above. PR Nautica can install the best option on new vessels and as a retro project. Up to 20 tons, vessels 30-50′: Seakeeper 5 Up to 35 tons, vessels 50-65′: Seakeeper 9 Up to 70 tons, vessels 65-80′ : Seakeeper 16 Up to 100 tons, vessels 80-100′: Seakeeper 26 Greater than 100 tons, vessels >100′: Seakeeper 35
I have an existing boat, can a Seakeeper be installed after build?
Yes, we can fit Seakeepers to both new vessels and aftermarket. The time of a retrofit installtion will vary depending on the Seakeeper and the model of the vessel. Typical installation time is 1-3 weeks. Get in touch for a custom quotation.
As an official Seakeeper Partner we have conducted over 30 exciting Seakeeper projects world wide.
Seakeeper UK Service Center, Installation Center, and Mobile Service Center.
Get in touch to learn more about how Seakeeper can eliminate boat roll, including the fatigue, anxiety and seasickness that goes with it.